We're sorry to say, we have to cut way back on American Ideat this year.


Unfortunately, forced budget cuts have hit Ideat Village, just like everyone else.

So, the new format for this year is just ONE tryout round... don't miss it!

The top three contenders will go straight to the final round
and compete for the 2009 title of American Ideat.

Wednesday, June 17th • 10:00 pm - 1:00 am

Cafe Nine, 250 State Street
Immediately following The New Haven Advocate's Ideat Village show at Temple Plaza.

Here's a twist - this is LIVE BAND Karaoke!&nbsp an American Ideat tryout for the truly adventurous!

This challenging tryout round is open to everyone -- advance sign-up is not necessary.

You've got just one shot, so give it all you've got.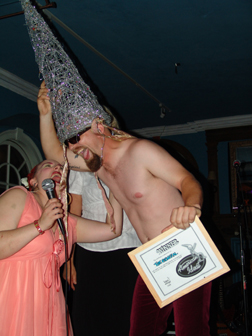 Season 4 (2008) American Ideat winner, "The General"
Successful contenders in the tryout round will go on to compete
in the final round, and face a surprise challenge. Saturday, June 27th • 7:00 pm - 8:00 pm
Pitkin Plaza, Orange Street&nbsp(between Court St. and Chapel St.) During the Ideat Village NEW New Haven Street Festival going on all day from 2:00 pm - 10:00 am.
Good Luck!