// -->

ARE YOU A PICASSO OR A PUTZ??
DO YOU HAVE WHAT IT TAKES

to win the title of...



???

Once again, test your skill, your fortitude and your very soul in the Texas Snakepit Deathcage Match of the Art World!!! Create a work of ART UNDER PRESSURE in the IDEAT VILLAGE Arena, pitting your talents against other like-minded artists in a no-holds barred competition. An Ideat Village exclusive.
IRON PAINTER contestants will face rapt on-lookers and our favorite local art celebrity judge


A surprise subject will be unveiled mere seconds before the paint starts flying


At the end of the hour of painting, our judge will bestow upon a very special IDEAT -- one with just the right mixed palette of creative genius, aplomb and savoir faire -- the coveted title of IRON PAINTER.


Wednesday, June 17th at Temple Plaza
Don't miss YOUR opportunity to compete for the title!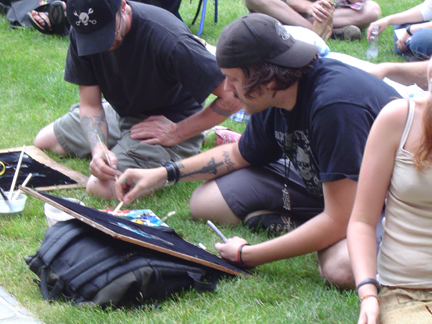 For more information, email: Ideat Village