Four opportunities to try out
for a spot in the American Ideat finals!

Wednesday, June 14th • 9:00 pm - 1:00 am

Cafe Nine, 250 State Street
w/ musical guest Pthalo (featuring reigning American Ideat, Nolan Voss)

Monday, June 19th • 10:00 pm - 1:00 am

Cafe Nine, 250 State Street
w/ Beatnik 2000

Tuesday, June 20th • 10:00 pm - 1:00 am

Rudys, 372 Elm Street
A full night devoted to American Ideat tryouts

Wednesday, June 21st • 10:00 pm - 1:00 am

Alchemy, 223 College Street
A short "last chance" round for anyone unable to make the other tryouts.

And, if you've already tried out in another round, didn't make the semi-final cut, and can't accept the crushing blow, you can try again if there's enough time.

(See important note below)

Tryout rounds are open to all -- advance sign-up is not necessary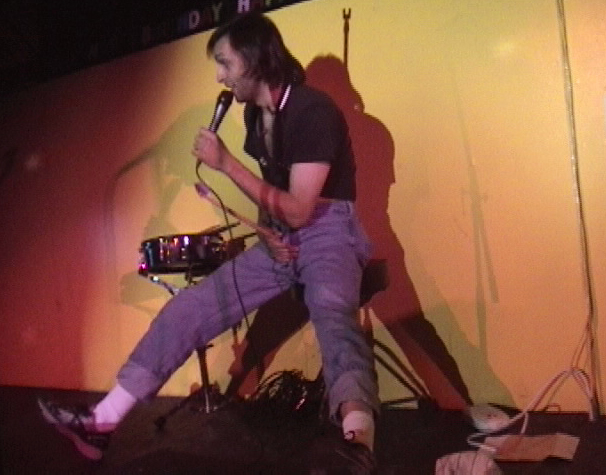 2005 American Ideat winner, Nolan Voss
Successful contenders in the tryout rounds will go on to compete in the semi-finals Wednesday, June 21st • 10:00 pm - 1:00 am
Hard Drive Live at Alchemy, 223 College Street
w/ musical guests Lamb Bombs & Yorko
and 5 lucky finalists will go on to compete for the title of American Ideat! Saturday, June 24th • 6:30 pm - 8:00 pm
Ideat Village at Temple Plaza
w/ music and art all day
A few simple rules.... The American Ideat comptition is nothing more than just judged karaoke... easy... a rotating panel of "celebrity" judges drawn from the local music, media and art realms will determine your fate and your opportunity for advancement to the semi-final round.
Tryouts: Contestants in the tryout rounds may select their songs from the list provided (over 500 titles) or may bring their own karaoke CD.
Semi-finals: Semi-finalists will be given 2 songs, selected specifically for them, in advance of the semi-finals. Semi-finalists choose 1 of the 2 songs to perform, but may also be asked to perform the second song in the event the judges are undecided.
Final: During Saturday's final round, the 5 finalists each sing a song of their choice. Then, for the final elimination, a surprise song will be performed by the last contestants standing...
Important note about the Wednesday June 21st Tryout Round:
Remember, all semi-finalists will be performing songs that are selected for them in advance. So, if you make it to the semi-finals following tryouts on the 21st, you will be getting your 2 songs only about an hour before you perform. This takes guts. And, unfortunately, the judges couldn't care less about your sob story. Plan accordingly.
Good Luck!
Go home