This year, look for IDEAT VILLAGE IV all over New Haven
Lots of venues and lots of variety!
All of your favorites will be back -- Iron Painter, Gallery 29
and tons of Music, Music, and more Music,
Poetry, Comedy, Drama and Oddities
And this year, Ideat Village proudly presents
The WORLD PREMIERE of AMERICAN IDEAT !!!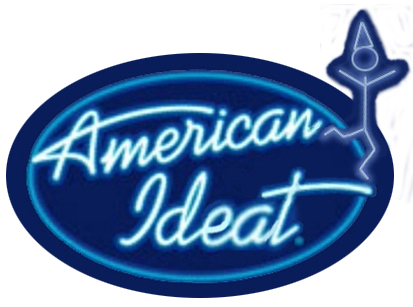 Mark your calendars... June 10th IV Kick-off Party at Cafe Nine
IV IV SCHEDULE:
Sunday, June 12th: Poetry Smackdown with American Ideat tryouts (AI schedule info)
Wednesday, June 15th: American Ideat tryouts (AI schedule info)
Saturday, June 18th (day): Electronic/fashion/freak show/carnival with American Ideat tryouts (AI schedule info)
Saturday, June 18th (night): Rock & Roll Alfresco
Sunday, June 19th: American Ideat tryouts (AI schedule info)
Wednesday, June 22nd: American Ideat SEMI-FINALS (AI schedule info)
Thursday, June 23rd: Ideat Village Movie Night
Saturday, June 25th: Music and interactive art with American Ideat FINAL (AI schedule info)
Click here for a recap of last year's music and interactive art events